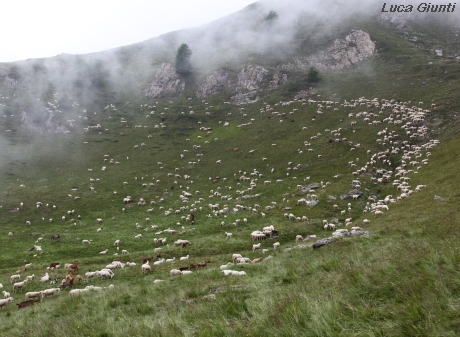 The animals purchased in the project will be entrusted, free to a private company for their management, for the duration of the project and after its conclusion which ensures continuity in time of action.
The flock will be actively engaged in the entire grazing area of habitat 6210*, subject to management, according to the time and manner prescribed in the course of the project, throughout its duration. Thereafter, the animals may be entrusted to other companies, but always with the aim of achieving the objectives of the nature conservation within and outside SCI. Grazing, thanks to investments (animals and equipment), will still be used after the completion of the project as a tool to further enhance conservation of habitat 6210*.
The flock given to a company will be via public tender. The animals will be made available to the companies that will be involved in the management of pre-approved habitat grazing programs and subject to the conditions of agreement (free, keeping the cattle healthy, prohibition of sacrifice, respect for grazing indications and benefits granted etc.).
The company may let the animals graze freely in the areas of intervention and use the profits gained from the sale of lambs (except those intended for recovery) to compensate for the costs of managing and maintaining the flock for the rest of the year. The company may not sacrifice any animal during the project for production purposes. The company that manages the flock can do it with additional (previously owned) animals, but will not be allowed flocks too large, to limit the impact against existing vegetation (also, the network of paths will not allow it). The parameters of the management plan (in particular the duration of grazing) will be defined in agreement with respect to the carrying capacity, to ensure the area is sustainable.
Despite the agreement, the coordinating beneficiary (PNACozie) will always own the animals, both during the project and after its conclusion. Animals acquired will therefore, not be transferred, killed or used for other purposes and remain the property of the Authority, which will give guarantees for the continuation of habitat 6210* conservational goals, as instructed during the project.