T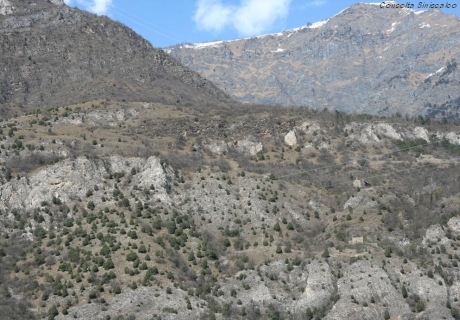 he SCI "Oasi xerotermiche - Orrido di Chianocco e Foresto" is characterized by a high number of rare plant species to which their area of distribution is limited, due to the soil and climatic peculiarities.
The actions of this project are aimed at the conservation and restoration of 6210* habitat (Semi-natural dry grasslands and scrubland facies on calcareous substrates, Festuco-Brometalia, * important orchid sites). The habitat in the SCI includes arid and semi-arid grasslands with shrubs and widespread facies, which on the mountainous landscape changes from calcareous to neutral substrates. The habitat is located on shallow soils which are well drained, primitive, poorly developed, rich in calcium and low in organic matter and nutrients - which have developed over time on different calcareous substrates.
The semi-natural grassland of the 6210* habitat is the most important natural habitat in the area. It are characterized by the presence (except for the Piedmont and Alpine territories) of stenomediterrany species (Leuzea conifera, Ononis minutissima e Linum strictum, etc.), steppe species (Achillea tomentosa e Crupina vulgaris, etc.) and endemic species (Ephedra helvetica, Brassica repanda e Campanula bertolae, etc.). There is also a presence of numerous species of orchids (29 orchid species in the SCI, 17 of which are ecologically linked to xeric grasslands).