The action C5 is in progress.
A significant area of habitat 6210* will be placed in active management, as defined and planned during the course of A4.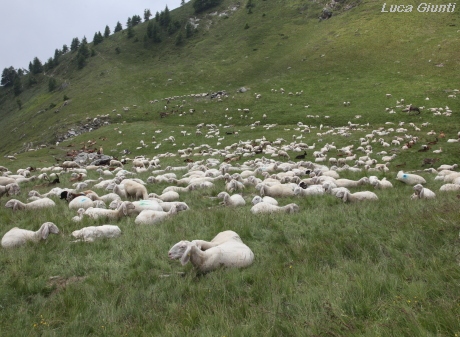 The goal is to implement the guidelines deemed necessary for habitat management for conservation purposes and to monitor over time, the impact on grasslands and other valuable fauna and flora (particularly orchids and steno-Mediterrany species). The action will include the two sectors (in an estimated area of 83 ha) and will involve:
1. The recognition of an agreement with a company selected via public tender for the management of the service flock.
2. The use of alternate grazing within the flock in the two sectors of intervention, will be used in the manner and dates stated during the course of A4.  These actions could be updated or modified based on the results of monitoring.
News about the progress of the action C5:
-20/08/2014 - Notice of publication: tender expression of interest for the custody of the flock management
-24/02/2015 - Actions C3 and C5: constitution and custody of the service flock
 -15/04/2015 - Action C5 – The grazing in the Oasi xerotermiche starts
-10/04/2015 - Actions C5 and F2 – The LIFE WolfAlps project entrusts two watchdogs to the LIFE Xero-grazing project
-07/10/2015- Action C2-C5-E5: the autumn grazing has started at the Oasi xerotermiche

-30/05/2016 - The spring grazing continues
-19/6/2016- The flock has moved in Rocca del Chiodo (Mompantero) and the grazing continues!
-06/07/2016 –The period of spring grazing is over
-24/09/2016 - News from our flock that is now on the mountain pastures
-28/09/2016 -The Parchi Alpi Cozie and Azienda Agricola Giletta (Val Troncea), examples of pastoral management and good practices to be applied in the pasture!
-18/10 /2016- The autumn grazing at the xerothermic oasis is started!
-12/11/2016- The autumn grazing of the Xero-grazing flock continues
-28/11/2016 - The period of autumn grazing in the Oasis xerothermicit is finished
-24/05 / 2017- Last week the spring grazing season officially began in the xerotermic oases!
-18/07/2017- Pasture is completed in xerotermic oases