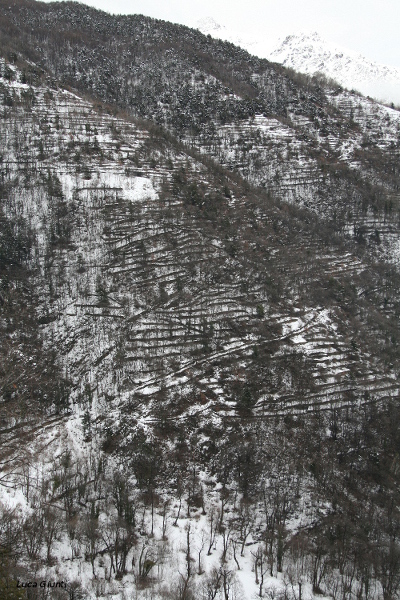 As part of the LIFE project Xero – Grazing, it has been conducted a study to investigate the past and present management of the SCI IT1110030, and in particular, of the pastures areas included in the habitat 6210 * (Action A2). The knowledge of the past agro- pastoral management and, consequently, the evolution of vegetation cover over time, is important to define an appropriate management regime aimed at the conservation and recovery of the habitat and its floristic peculiarities.
According to data, at least 30% of the territory of the SCI has been intensively cultivated until 1950; this fact is evidenced nowadays by the presence of terraces and embankments, these terraces and embankments were intended to accommodate vineyards , crops and meadows in the past. At this percentage must been had added the surfaces intended exclusively for grazing and crops located on land free of accommodation of the slope, it is not possible nowadays quantifying accurately this areas.
The documents available, though often fragmentary and limited to small portions of the site, has helped to identify the main mode of utilization of the area, their distribution and their evolution over a span of about 600 years. These documents revealed the existence of an intense agropastoral activity until the mid-twentieth century. During the decades after 1960, the uses were kept in an intermittent mode (but always with a gradual reduction), this occurred only in small areas, especially in proximity to population centers; while most of the territory was affected by a massive and suddenly abandonment due to the migration to the cities. This has resulted in a rapid transformation of the vegetation cover and the landscape in general, the transformation process is still in progress and the results are widely visible. According to the current estimations, only 3 % of the area is now used with continuity in terms of agro- pastoral uses, while much of the territory is occupied by forests, shrublands and xerothermic grasslands. The use patterns and the typologies of current and past crop, retain a minimum similarity, except for the cereal crops, that are almost completely disappeared. So today, we can find, near population centers, meadows , vineyards, crops , orchards , fruit and some small plots of vineyards interspersed with surfaces of other crops between the rows. Regarding the pastures in the strict sense , they are now completely abandoned or used extensively in small areas.
The action A2 has been ended on March 31, 2014, it has led to the drafting of two summaries of information about the current and historical management of the SCI. This documents can be downloaded at the following links:
The current agro- pastoral management of the SCI IT1110030 "Oasi xerotermiche della Valle di Susa – Orrido di Chianocco e Foresto"
The historical agro- pastoral management of the SCI IT1110030 "Oasi xerotermiche della Valle di Susa – Orrido di Chianocco e Foresto"